If you're looking for bathroom remodeling ideas in Monterey, Cypress Design & Build is here to help. If you're tired of looking at the same old generic vanity and countertops that everyone seems to have, let us give you some fresh new ideas for your bathroom. Maybe you've purchased a new home, or the kids have moved out, and it's time to transform a much-abused pit stop into a welcoming space for guests. Whatever your needs, we're excited to share the latest trends and help you make them a reality in your home.
Add Natural Touches With Wood & Stone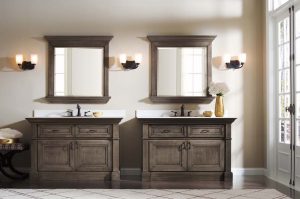 While wood adds warmth to small rooms, and stone can bring in an industrial touch. Together, these two natural materials can add a more modern zen-like or spa feel to your bathroom remodel. If you're looking for ideas to add richness and depth to the room or break away from neutrality in color, try some of these contemporary touches:
Floating Vanities
Glass-Topped Vanities
Black Vanity Cabinets Topped With White Marble
Frameless Vanity Cabinets
Raised Panel Cabinets
Glass Paneled Wood Cabinets
Increase Your Bathroom Storage
Need Some Extra Room?
Do you ever feel like you could use a little more space in the bathroom? Sometimes it seems like there is plenty of room, just not enough storage. In a modern "form follows function" style, you can add more storage space to a smaller bathroom or take advantage of a larger bathroom with the following bathroom remodel trends:
Extend Cabinets To The Ceiling
Add Pull-Out Bathroom Shelves
Add Shelving Under Mirrors
Long Double Vanities
Two Separate Vanity Areas
Free Standing Armoires & Cabinets
Trendy Bathroom Customizations
Make It Yours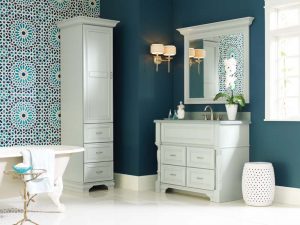 With a bathroom remodel, you can add dozens of personal touches that add up to create a unique space that is truly you. You want a space that is both useful and relaxing. Our professional staff can help you choose from a wide variety of bathroom design trends that will compliment your taste and space, including those listed below:
Matte Or Satin Finished Fixtures
Oil Rubbed Bronze
Brushed Nickel
Brass & Copper Tones
Side Mounted Faucets
Fireplaces / Fire Features
Black Granite Sinks
Large Walk In Showers
Free Standing Soaking Tubs
Consult With A Bathroom Remodel Specialist
At Cypress Design & Build in Monterey, we look forward to helping you bring your bathroom remodeling ideas to life. With our large selection of bathroom cabinets, you'll be sure to find the right option for your space. Contact us today to schedule a consultation with one of our design experts.