Cypress Design & Build (formerly known as Cypress Cabinets) is a general contractor with a home remodeling store located in Sand City, California. We work with homeowners to execute their home upgrades with a stress-free approach. Come see samples of flooring, cabinets, and countertops in our 3,000+ square foot showroom – the largest home remodeling showroom in the region.
We provide free design services, help you select the best materials, then follow through with high-quality installation. If you have a new construction or remodeling project of any size, we will lead you through the process to complete your vision to your complete satisfaction.
Awards & Recognition
We are also proud to be a member of the Professional Women's Network of the Monterey Penninsula. Theresa Ream is currently serving as the President of PWN for 2023.
In 2017, Cypress Design & Build was awarded the Minority-Owned Business of The Year in the KSBW-Union Bank Salute to Small Business.

Custom Cabinets
Selecting the exact cabinets you need to fit your desired space can be difficult. With the various sizes, colors, designs and functionality options – the entire process can be quite overwhelming. With the aid of Cypress Design & Build, we can assist you throughout the entire process and make it very stress-free. With our custom designed showroom, our Free Design Program, a team of professional designers, and a large selection of brands to choose from, you can rest assured that you will get exactly what you wanted. Some of the services we provide are:
Our Designer Showroom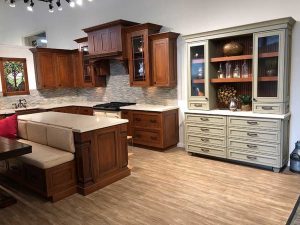 We believe that seeing a picture is not necessarily the best way to make cabinet purchases. With over 3,000 square feet of cabinetry in various configurations, colors and designs, you have the ability to not only see, but touch and feel your potential cabinets. Our showroom also comes with the benefit of our unique design software that allows our designers to show you exactly what your cabinets will look like in your space. This benefit requires an at home visit for measurements but is a priceless advantage offered to you by Cypress Design & Build.
Professional Designers
Cypress Design & Build employs a group of highly skilled interior designers to assist you in the design and selection of your new cabinetry. This enables you to make an educated decision with the aid of a professional that has a great deal of experience designing and implementing cabinetry ideas into customer's homes. Take advantage of our custom cabinet designers with our Free Design Program.
A Large Selection of Brands
We have strong standing relationships with all of our vendors and have the ability to offer high quality and trusted brands to our customers. With our diverse selection of brands, to choose from we can make just about any design concept a reality. Some of the brands we offer include:
More details about the brands we offer can be found on our Brands We Use page.
Environmental Sustainability

Omega Cabinets, Kitchen Craft, and Kemper Cabinets have been certified in the Environmental Stewardship Program through the Kitchen Cabinets Manufacturers Association. The ESP requires manufacturers to meet standards in air quality (low formaldehyde-emitting composite wood), resource management, and environmental stewardship. Omega and Kemper Cabinets show their commitment to sustainability by being part of the Environmental Stewardship Program. Cypress Design & Build is proud to offer cabinets manufactured by these environmentally responsible companies.