Cypress Design & Build creates beautiful kitchens featuring the latest custom cabinet trends. With a showroom located in downtown Sand City, California, we are known for designing many of the unique and luxurious kitchens on the Monterey Peninsula. From specialized cabinets to fashionable storage features and technology enhancements, we are experienced in creating custom cabinet designs that employ popular trends while achieving a unique look for your home.
Current Cabinet Trends
Pull out pantries, shelves, and drawers.
Built-in appliance cabinets.
Wine drawers.
Built-in charging stations for technology.
Corner cabinets with drawers or lazy susans.
Drawers instead of doors on cabinet bases.
Specialized drawers.
Utility cabinets.
Island built-ins and addons for more storage.
Toe-kick storage.
Kitchen sink, apron-style sink, or farmhouse sink cabinets
California's Leading Kitchen Designs
Functionality and beauty are our two primary goals in cabinet customization. Some of the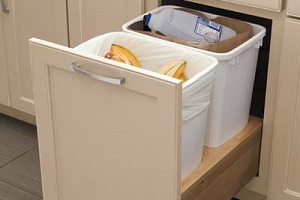 best current interior design techniques combine style with optimizing your available space. Where storage is a concern, we can use floor-to-ceiling cabinetry, as well as pull-out pantries and shelves, creating a custom space that is easy to access and neatly concealed by a beautiful facade.
You may prefer glass-front cabinet doors. This style allows you to display your fine glassware, pottery, dishes and collectibles. We can also mix the use of traditional cabinetry with open shelves. This shelving provides symmetry and a display option while the closed cabinetry offers hidden storage – together they convey a clean, bright style.
Smart Kitchens
If technology is an important part of your life, we offer solutions that incorporate it into your kitchen. We can add built-in charging stations for phones, tablets, and computers, as well as connections for Smart TV's, security monitors and other home electronics. If you have advanced home entertainment systems, we will work with your chosen provider to integrate them with your custom kitchen cabinetry.
Unique Kitchen Drawer Systems
Many new conveniences are available for custom cabinets and drawers. Built-in knife rack drawers, trash cabinets, tray-dividers, and pot and pan drawers keep all of your cooking tools in an easy-to-access place. We can also include specialized drawers for food – including pantry pull-outs, wine drawers, and built-in bread boxes. Utility cabinets and toe kick drawers are popular features, providing hidden storage for trays, platters, linens and other things that you may not use often.
Schedule Your Free Design Consultation
With over three decades of experience, Cypress Design & Build is Monterey's number one choice for homeowners seeking innovative custom cabinetry at an affordable cost. Visit our Sand City showroom or make an appointment for a complimentary in-home consultation. Harness our talent, experience, and knowledge of the latest cabinetry trends to create the kitchen of your dreams.