At Cypress Design & Build in Monterey, we offer kitchen remodeling ideas to help you update your cooking area with the kitchen cabinets of your dreams. Most older kitchens were designed only for storing and preparing food, but now it may be a central gathering place for your friends and family. With our design suggestions, you can create surroundings that reflect your unique style and at the same time make working in your kitchen easier, more convenient and enjoyable.
Kitchen Cabinet Remodeling Ideas Include:
Fresh Designs
Unique Finishing
Functionality Improvements
Add-Ons & Extra Cabinets
Door & Handle Replacements
Fresh Designs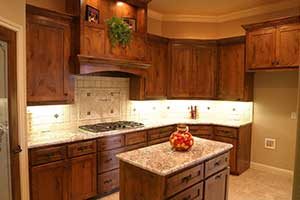 Cypress Design & Build offers an incredible selection of innovative cabinet designs to suit your lifestyle. For a contemporary look, you may want to replace your wood cabinets with gleaming stainless steel. Another sleek design choice is a high gloss acrylic slab style.
You may choose to break all the rules with new age cabinets that combine unexpected elements and materials such as slate, glass, and aluminum for that ultra-modern feel. If you love old wood and aged paints with rough finishes, antique style cabinetry can be created with either formal or rustic designs, and even incorporate custom carved legs or corbels.
Unique Finishing
While rich and beautiful varieties of wood remain the cabinet choice for many people, other finishes such as paint, stain, gloss or white acrylic are increasing in popularity due to their modern appeal and ability to brighten up your kitchen.
Functionality Improvements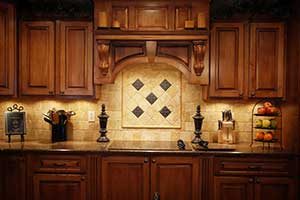 When looking for kitchen cabinet remodeling ideas, maximizing the functionality of your kitchen is a good one. New cabinetry with increased storage space and food preparation areas built-in or above makes cooking, preparing food, and entertaining guests more practical and enjoyable. Some ideas for increased storage and ease of use include:
Revolving Stands & Swingout Storage Trays
U-Shaped Dividers
Pull-Out Drawers For Hard To Reach Cabinetry
Built-In Spice Racks
Custom Counter-Top Cutlery Holders
Floor To Ceiling One-Piece Cabinets
Pull-Out Recycle & Trash Bins
Future Proof Kitchen Cabinet Add-Ons
Undercabinet Lighting Systems
Smartphone & Tablet Mounts
Cabinet Doors With Flat Panel TVs & Touchscreens
Stemware Racks & Wine Holders
Extra Cabinetry
No one likes to run out of storage space, so extra cabinets always come in handy. Additional cabinetry can be installed over your refrigerator, and "hanging" cabinets can even be built over your kitchen island. We off many predesigned and custom kitchen pantry cabinets as well. They don't even necessarily need to match the rest of your cabinets to be right in style.
Door & Handle Replacements
If you want to keep your existing cabinetry without the expense of a complete kitchen cabinet remodeling, we offer refacing, refinishing and multiple different combinations of handles that will update and beautify your kitchen. Replace old doors with stylish new glossy finishes and upgrade your cabinet handles with materials such as glass, stone or ceramics.
Trust the Cabinet Experts
Cypress Design & Build in Monterey can provide kitchen remodeling ideas and help you find the best cabinets for your space. Style and functionality are important when choosing kitchen cabinets and we have a wide selection at unbeatable prices. Contact us for an in-home consultation today and let us transform your kitchen into the heart of your home.