Cypress Design & Build specializes in the sales, design, and installation of a wide variety of elegant and functional office cabinets in Sand City. We have an impressive showroom available for you to visit and assess the wide variety of different office cabinet options that are available. Our designers are available to assist you in visualizing your new office cabinets with the aid of our special design technology. This technology allows us to show you what your cabinets will look like in your space before making your final decision. This is an excellent way to pick the cabinets that will perfectly fit your current environment and contribute to creating a beautiful, functional and comfortable office space.
Office Cabinet Installation
Remodeling or designing a new office for yourself or your company will often require new office cabinet installation. Office cabinet installation can be difficult and expensive if done incorrectly or by the wrong people. Let our expert technicians come to your place of business and install your brand new cabinets properly. Call us for a quote and for more information about how our office cabinet installation works.
Shop For Office Cabinets At Our Showroom
Visit the Cypress Design & Build showroom and see for yourself the quality and selection of office cabinets we have available. We have a large selection of different styles, finishes, and functionality for you to choose from. We recommend that our clients visit our showroom so they can see first-hand what their cabinetry looks like and how it functions. There is no substitute to actually seeing and feeling your potential office cabinetry.
Varieties Of Wood Office Cabinets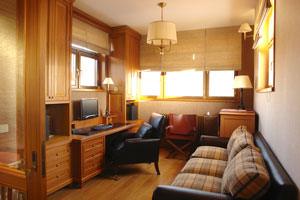 Our wood office cabinets come in different varieties of wood including alder, bamboo, cherry, eco veneer, maple, MDF, melamine, oak, rift oak, thermofoil, and low formaldehyde-emitting composite wood. There are many different shapes and finishes from light to dark to different colors. The designers at Cypress Design & Build can help you choose the wood, shape and color, that will fit your office best.
Office Cabinet Brands
Cypress Design & Build features the highest quality office cabinet brands available including Omega and Kemper. Many of these brands come standard with a lifetime warranty. We have a selection of office cabinets to accommodate every budget. Whether you are looking for modern cabinets or classic wood cabinets, you can find the right office cabinets at Cypress Design & Build.
Upgrade Your Office Space With New Cabinets
New office cabinets are a fantastic way to upgrade the look of your office and enhance the style of your workspace. Our professional designers can help you every step of the way from selection to installation. In the end, we want your decision to be one you will be completely happy with for many years to come.
If you are looking for office cabinets for your home or business, have any questions regarding any of our services, or if you would like to receive a quote, please feel free to contact Cypress Design & Build in Sand City. We look forward to hearing from you and helping you bring your cabinetry design concepts to life.