If you're interested in purchasing storage cabinets for your Monterey home, Cypress Design & Build provides professional sales and installation of a wide variety of storage and utility cabinets. We have a large 3,000 square foot showroom of cabinetry available to our clients to see firsthand what cabinet styles and options are available to them. We have also made available a unique piece of software that is also available in our showroom that can help you visualize the different types of storage cabinet designs and configurations that are available. Our designers are happy to help you find the perfect style of storage cabinets for your home. Don't settle for less when installing storage cabinetry in your home.
Don't Wait To Organize Your Home
Storage cabinetry is an excellent solution to assist you in organizing and uncluttering your home. If the rooms of your home look like a mess because of piled up boxes, tools, papers, and clutter, installing new storage cabinets can help you organize the mess and restore order to the confusion. Storage cabinets are exceptionally helpful in keeping loose items and tools organized while maximizing the space you have available.
Large Cabinet Selection
We offer a variety of different top quality cabinet brands for you to choose from including Omega, Kemper, and Kitchen Craft cabinets. Our staff of designers will help you to choose the right brand that will fit perfectly into your storage space. Whether you are looking for modern decor or more of an old fashioned, classic, or wooden look, we can help you to find the perfect match for your home. We choose the highest quality brands and use only high-quality installation techniques to ensure that your new cabinets last for years.
Enhance The Look & Feel Of Your Garage Conversion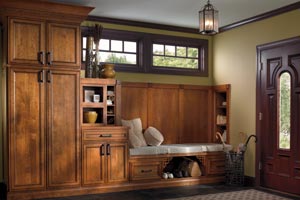 Upgrade your finished garage conversion with brand new garage storage cabinets that will improve the overall look of your space. Whether your garage is a game room, bedroom, man cave, or any other extra room, installing new garage cabinets will help improve the quality, practical usefulness, and beauty of the decor. You can find cabinets that will match the other furniture in your space or create a brand new look with fancy new modern cabinets that will set your room apart from the typical garage room conversion.
Contact Cypress Design & Build Today
If you're ready to optimize your space with storage cabinets for your Monterey home, contact Cypress Design & Build to schedule your free consultation. You can also visit our showroom and our designers will help you customize a set of cabinets to fit your needs. We have a reputation for our quality, professional cabinet design, and top notch installation. Let us install the perfect storage cabinets for your garage today.